Current COVID19 labs typically have the following procedure:
1. Acceptance of samples
2. Sample follow-up (LIMS etc.), logistics
3. qPCR testing
4. Data analysis with machine software and record the result in spreadsheet
5. Submit the results to some kind of government registry
Upon discussions, it seems like every step in this process craves for further optimization. With the genomize-covid19-qPCR software what we did targets the 4th step above. This step is error prone due to the 1) manual interpretation of curve structures of the qPCR results, where a sigmoid curve is expected, 2) manual recording of results in to spreadsheets. The sigmoid call for a curve is not a trivial issue, and especially for single channel kits this process may result to wrong test results. To addres this issue we used machine learning to train a classifier which considers several features of the curves deemed sigmoid, unsaturated sigmoid or non-sigmoid in the wet-laboratory tests performed at Turkish Health Institutions Federation (TÜSEB) COVID19 testing centers. We observed the following type of shapes:

1. Fully saturated sigmoid shaped curves, classified as sigmoid
2. The curves that has started saturation but not fully saturated, classified as sigmoid
3. The curves that has a twisted sigmoid shape, or early accelerating sigmoid curves as we call them, classified as sigmoid
4. The curves that did not start saturation, classified as unsaturated sigmoid, and tends to become negative in the retests.
5. Non-sigmoid curves, classified as non-sigmoid.
1,2 and 3 above were classified as sigmoid, 4 as unsaturated sigmoid, and 5 as non-sigmoid. This is a 3 class classification and trained with the data from the kits we worked with (Coyote COVID19 3 channel kit, and Sensure COVID19 3 channel kit) Below, you can see the graphics illustrating the above 5 classes. All feedbacks are wellcome at
support@genomize.com
. Important Note: We DON'T calculate CT values, we use machine software's calculations which is present in the file we require.
Different Sigmoid Shaped Curves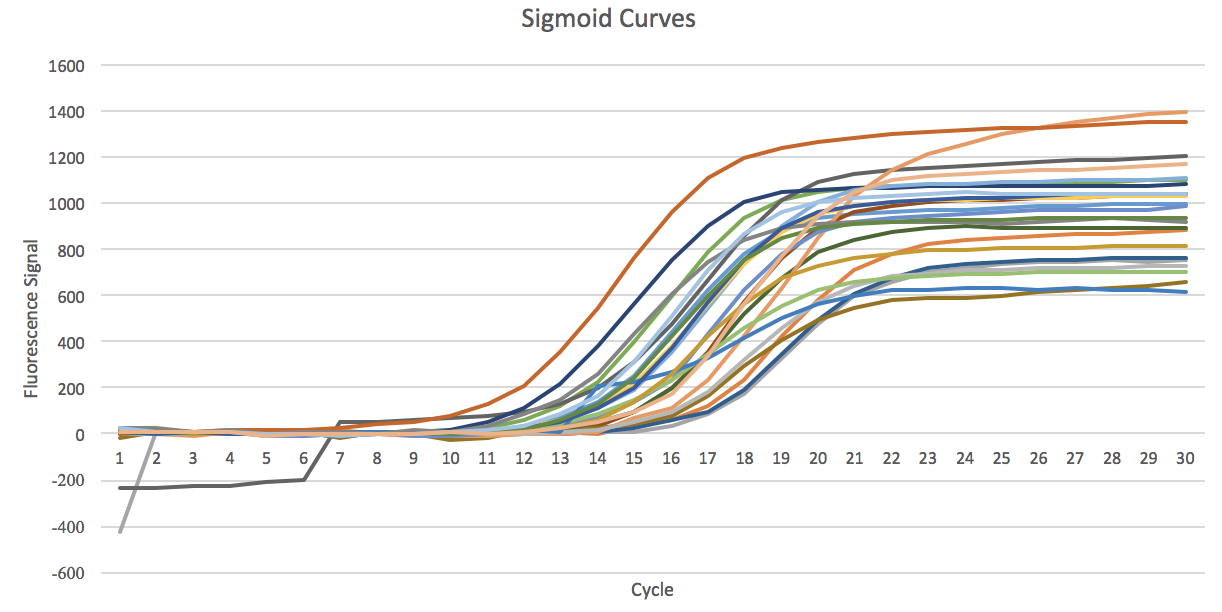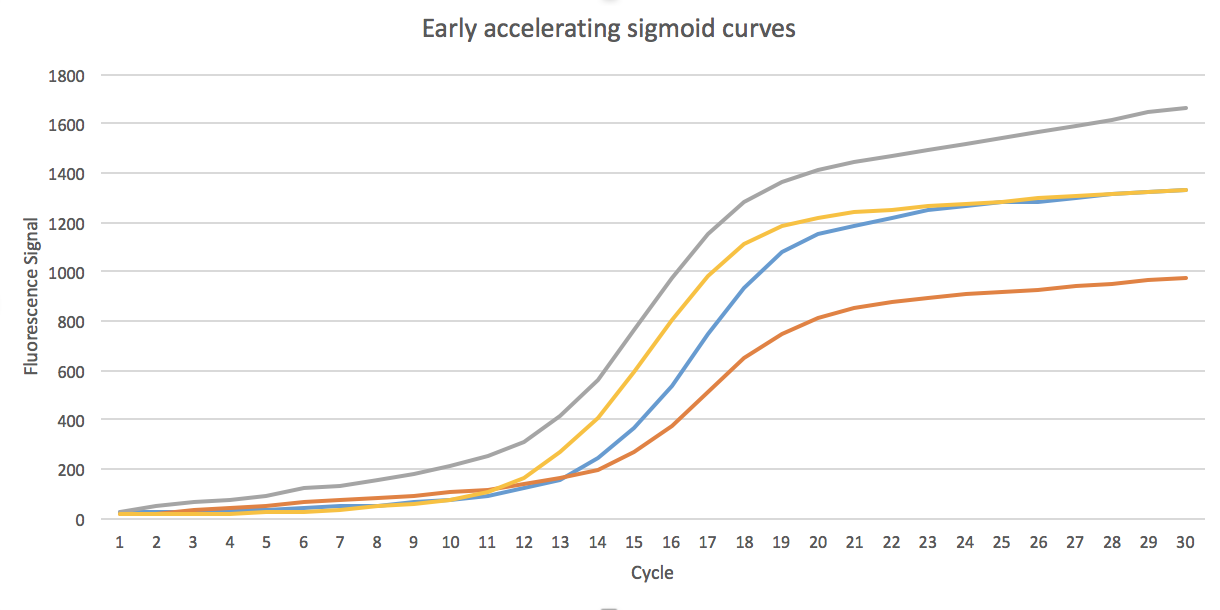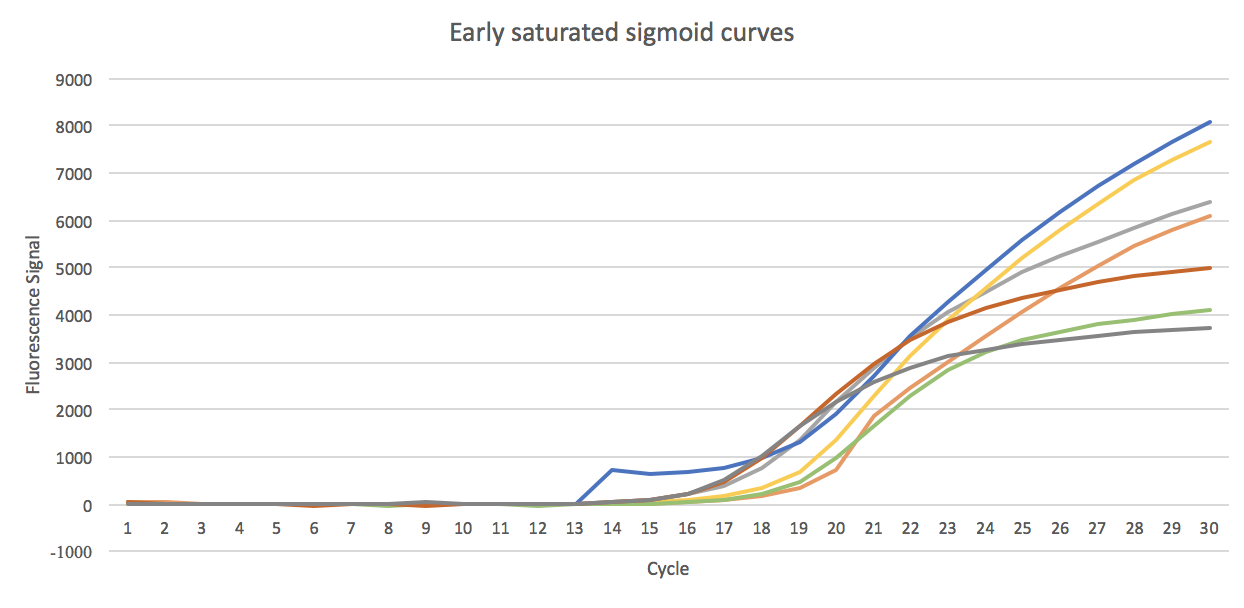 Unsaturated sigmoid shaped curves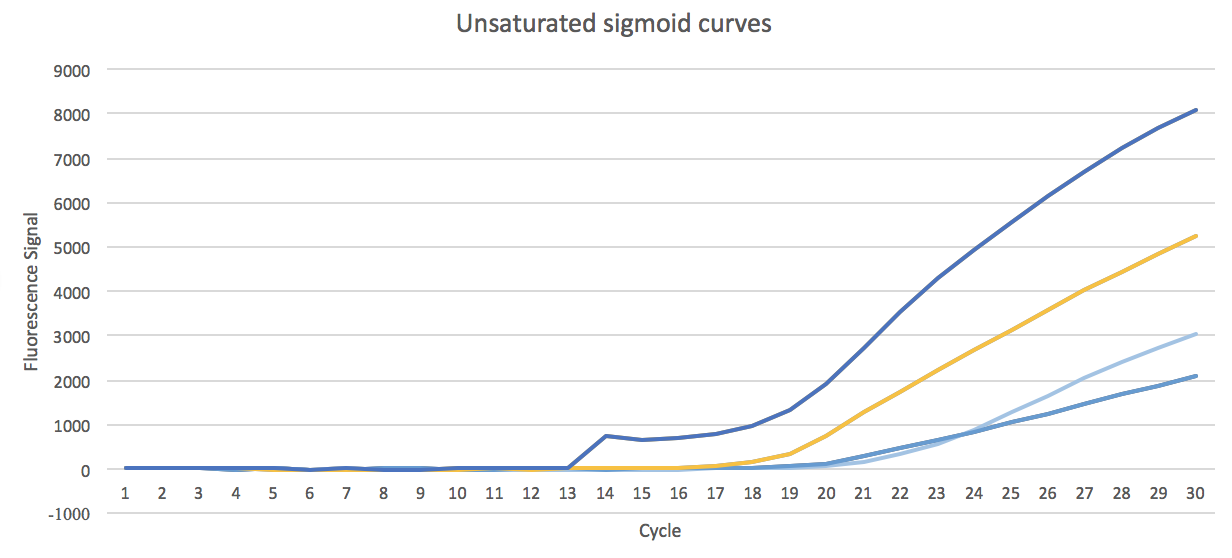 Non-sigmoid sigmoid shaped curves